InvestLite Forex broker review – Is it a legit broker?
The market is full of Forex brokers, every day, new brokers are emerging on the market, making sure that people of all backgrounds have access to this very diverse market. One thing that investors are looking for in FX brokers is safety. When trading Forex, you must only trust the companies that can safeguard you and your hard-earned funds.
New brokers are emerging on the market every day, and one that was just recently established is the InvestLite. This Forex broker, although it is very much new, proves that Forex trading can be enjoyable, safe, and secure. While reviewing InvestLite, we were able to find that the services that this broker offers are next level.
As we found while reviewing this FX broker, by following the regulatory framework of some of the best agencies around the world, it manages to offer traders some of the best services on the market. Also, the broker offers several hundreds of different trading assets, which is a very good thing.
If you are looking for an FX broker to start trading with, we would encourage you to follow our review as we dive deeper into everything that this broker offers and see what are the offerings that this Forex broker have!
Quick background of InvestLite
InvestLite is a company that is operated by Bayline Global World Ltd. The registration number of the company is SC517838 and is registered in the UK, Edinburgh. The company is registered in Belize and is regulated by the Belize International Financial Services Commission, IFSC.
The company has stated many times that one of the main aims of InvestLite is to give traders new opportunities, no matter you are a beginner or an experienced trader, there is something that InvestLite can do to meet your expectations and needs.
By offering more than 350 assets, the company makes sure that no matter what it is that you are looking for in the world of FX trading, you can find it at this broker. InvestLite FX trading review shows that this broker has created services that can be enjoyed by investors a lot.
The broker also offers numerous types of learning and educational packages to investors, such as tutorials, eBooks, videos, and many other things to make Forex trading easier for investors.

Safeguarding the funds of investors
No matter what it is that you are doing on this market, there is nothing more important than the safety of you and your funds. Just a few decades ago, Forex trading could only be accessed by some of the biggest companies on the market. However, recently, this trend has changed a lot.
As of now, thanks to the development of the internet, people of all backgrounds have the ability to trade Forex and enjoy everything that this market has to offer. However, with this, many problems and challenges came as well – now, there are many scam companies on the market which are making it very hard for traders to tell which companies are legit and which of them are scams.
Jurisdictions around the world found a way to overcome this challenge by creating regulatory agencies that would make the market safe for every participant. This FX broker follows the regulatory framework of the main regulatory body of Belize, the Belize International Financial Services Commission, IFSC.
IFSC was established in 1999 in Belize. Over the two decades, the regulatory guiltiness of the company has changed a lot and as of today, they are offering world-class safety standards. The company regulates and supersizes many foreign exchange brokers around the world.
The regulatory body is also able to impose administrative sanctions and penalties on brokers who are not following the regulatory frameworks as they should be. Thanks to the regulatory frameworks, this FX broker manages to create a safe and secure environment.
Trading Assets of InvestLite FX broker
One of the most important things when it comes to Forex trading is the available trading assets. Assets are something that you will be trading on the market, and choosing the one that works best for you is a very important step in this market. There are more than 350 trading instruments available on InvestLite, which is a huge number. These are the assets that you can trade at InvestLite:
Forex
Crypto
Stocks
Indicies
Commodities
Metals
Below, we will discuss each one of these trading assets one by one.

Forex trading at InvestLite
Forex is the biggest markets around the world. As of 2019, the average daily turnover of Forex trading was as much as $5.1 trillion, which means that it plays a huge role in the world of trading.
This market attracts thousands of traders from all parts of the world. Forex trading is known to be very high in liquidity, which is one of the main reasons why so many people are investing in this market. Although it can be challenging, it still is very popular. Thanks to some of the best trading platforms that are available on this Forex broker, our InvestLite review shows that you will be able to trade more than 40 currency pairs.
This includes Majors, Minors, and Cross currency pairs. All of them are very different and need different types of trading attitude, if you are someone who is just getting started on the market and don't want to pay a lot of money for spreads, it would be a much better idea to start trading with major currency pairs, because it will be a lot easier for you to find needed information about them online.
The Forex broker offers a leverage of up to 1:500, depending on the account type that you are using. This leverage is very high, and should only be used if you are 100% sure about what you are doing. Although leverage can be very helpful to generate higher profits, it can also make the market more dangerous for you.
Crypto trading at InvestLite
Cryptocurrencies have become something that many people are interested in. In the past few years, the market has become very popular and today it can be traded with some of the best FX brokers on the market. InvestLite review shows that it is one of those FX brokers that are trying their utmost best to make sure to offer their investors something new and different.
There are more than 30 digital coins CFDs available at this FX broker, which means that you can trade anything from bitcoin to litecoin, and many others. Trading CFDs of cryptos is a great opportunity for any investor to diversify their trading portfolio. The spreads are very flexible and low for crypto traders, which is amazing news for inverts. Also, with the help of a 24/5 expert support team, you will be able to get the help that you might need at any time of the day.
Stocks trading at InvestLite
Stocks trading has always been very popular. There are many people on the market who want to invest in stocks because of their tendency of having long-term profits. If you are one of those people who wants to buy a stock, sit back, relax, and wait for their money to grow, you will enjoy investing with InvestLite a lot.
This Forex broker offers stocks of leading companies on the market, such as Google, Apple, Microsoft, Tesla, Uber, and many others. There are more than 60 analytical tools available on the broker to help you make decisions on which stocks to buy and which ones to sell. There are more than several dozens of company stocks available at this Forex broker that you can buy right now.

Indices trading at InvestLite
As our review of InvestLite shows, indices trading has become a very popular and attractive thing for many traders over the last few years. There are many indices available at this FX broker, such as FTSE100, Dow Jones, Nikkei225, and many others. In total, there are more than 20 indices available at this Forex broker and it includes some of the best companies on the market.
InvestLite offers investors a very well developed and advanced trading terminal, which ensures enhanced market performance in addition to many other things.
Commodities trading at InvestLite
Commodities have long been a part of people's lives and they have always been very popular among investors around the world. There are mainly two types of commodities that can be traded on the market and they are:
Soft Commodities
Hard Commodities
Soft commodities are those that are a result of agricultural activity, such as wheat, flour, cocoa, etc. On the other hand, hard commodities are those such as silver, gold, crude oil, and others. Thanks to CFDs trading, there are many different types of commodities that can be traded at InvestLite. They are energies, precious metals, agricultural raws, and many others. In total, the broker offers more than 20 commodity assets for investors, with the help of about 50 major commodity markets around the world.
Metals trading at InvestLite
Metals are being traded around the world every day. Our review of the InvestLite FX broker review shows that this Forex broker offers a number of precious metals to investors. You can trade CFDs of precious metals such as silver, gold, platinum, and many others.
Metals are very popular assets for trading, one of the major reasons for it is that they are known to be safe-haven assets. This means that even if there is something going wrong on the market, the prices of precious metals are staying mostly stable. This is making them a very popular asset to invest in.
How to start Forex trading at InvestLite
Before you will be able to invest in the world of Forex trading, you will first need to take a few steps. First and foremost, you will have to create your own trading account. Depending on your needs, this Forex broker offers you several different types of trading accounts. All of them are very different from one another and are creating a very diverse situation. These are the account types that are available at InvestLite:
Silver Account – A perfect type of account, created for beginner FX traders. Thanks to this account type, you will be able to easily invest in the world of Forex. The highest leverage available for Silver Account users is 1:200
Gold Account – Intermediate FX traders can use the Gold Account type very successfully. This account holders will have the ability to trade Forex with leverage of 1:400. If you use a gold account you will have the ability to take advantage of a dedicated account manager, and you will also have a swap discount of 25%
Platinum Account – This is a perfect choice for those who have a lot of experience in trading Forex. The leverage can be as high as 1:500, which is a very high number. In addition to a dedicated account manager, you will also get a swap discount of 50%, free VPS, customized investment news, and many other special services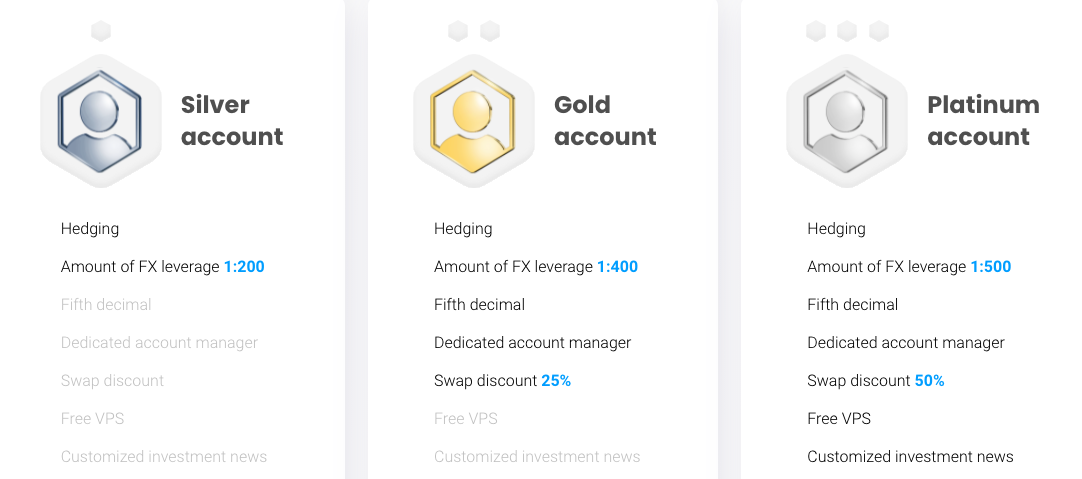 Demo Account
If you are new to the trading market and you still do not have enough experience, there is something very exciting offered by this FX broker. Our review of InvestLite shows that this FX broker offers investors a demo account, which means that you will be able to trade Forex for fun, without having to risk your hard-earned money.
When you are using a demo account, the broker gives you a certain amount of virtual cash, which you can use to trade. The market that is available for demo account users perfectly resembles a real-life trading market. It is a great opportunity for newcomers on the market to learn more about Forex trading, without having to put their hard-earned money at great risks.
Many people have this misconception about demo account that they are only for beginner traders, while, in reality, they can be very helpful for anyone. Even if you are a well-experienced FX trader, you can still very successfully use it for trying different types of trading strategies.
A demo account is also a great way to get used to the trading platforms, which is a very important thing for traders.
Ways of making deposits at InvestLite
After you have created a live trading account, now it is time for you to make your first deposits! Thanks to the fact that this FX broker offers many different payment methods, you will be able to very easily fund your trading account. You can make deposits will online payment methods, or use more traditional ways of payments like credit cards or direct bank transfers.
To make sure that you don't have to pay huge amounts of fees, contact your payment issuer and ask if they are charging any fees for this type of payment. From InvestLite's side, there are little to no fees applied to deposits.
Trading platforms of InvestLite
Trading platforms are one of the most important parts of Forex trading. There are many of them available on the market, but InvestLite decided to offer investors one of the most popular ones of them, WebTrader. This web-based software works very well and offers investors the ability to trade Forex without having to download anything to their computers. WebTrader can be used directly from any browser.
Also, this trading platform was developed by the same company that created MetaTrader 4 and looks very much like it, which is a great thing for many investors. WebTrader is very popular around the world, and it offers very fast execution and some of the best trading tools on the market.
Mobile Trading
Thanks to the application that the team behind this broker has created, it is very much possible to trade Forex using your smartphone. The application of InvestLite is available for both, Android and iOS users. In recent years, mobile trading has become very popular and it is great news for those people who are always on the go. Now, with the help of InvestLite's application, you will be able to stay in touch with the market no matter where you go.
Customer Support team of InvestLite
While working on this review of InvestLite Forex broker, we made sure to focus on every aspect of this company. Something that we wanted to test out was the customer support team. As it turns out, there are several ways you can contact the customer support team. You can call them, you can use the live chat, and they even have a special email for those who want to get help.
We tried every single one of these methods and they were very helpful. First, we used the live chat, which was the fastest way to get the help that we needed. The customer support team got back to us in no time, and they were very helpful. After this, we called the hotline, it took a little longer to get the answer, but they were very helpful. Email took the longest time, but the information that we got was very helpful and detailed.

InvestLite FX broker review – Key Takeaways
After reviewing every aspect of this Forex broker, we are very confidently encouraging every single one of our readers to start trading with this broker. The broker offers more than 350 trading assets, which gives investors the freedom to choose something that they can enjoy.
The broker was able to develop a lot in a very short time, which is a very great thing. So, if you are looking for a great place to start trading, we would recommend visiting the official website of InvestLite.