How to start trading with XM no deposit bonus
XM welcoming bonus is one of the best opportunities for those who want to start Forex trading with no money. Both beginner and experienced traders are to apply for it. With its 10 years of experience on the Forex market, XM has a reputation of a reliable broker that constantly provides good service to its customers. In this XM no deposit bonus review you will get to know what exactly is a no deposit bonus, how it works and most importantly, how can you claim your free $30 today.
XM no deposit bonus description
Just like other brokers in the Forex trading market, XM is also offering a no deposit bonus to promote its service and attract new customers. The bonus is for every trader who is eligible for opening a trading account with XM. All traders who will register with the broker for the first time will receive 30 USD on their account without depositing even one cent on it. Those who have accounts in different currencies will receive the equivalent of it, South Africans having an account in ZAR will receive 347 ZAR from the broker.
XM no deposit bonus $30 is solely for trading purposes, meaning that individuals who receive it will not be able to withdraw it. Getting no deposit bonus from XM does not give you any financial obligation – if you lose the bonus money completely -that's absolutely fine. On the other hand, the profits made with the bonus can be withdrawn at any time.

XM no deposit terms and conditions
As I have mentioned the bonus does not have any financial obligation from the traders' side however it has terms and conditions that the trader should be aware of.
First things first, as it is XM welcoming bonus only new clients are able to get it. If you already have an account with XM, unfortunately, you are not eligible.
The client who wants to claim the bonus should fulfill some basic criteria. An individual should be eligible to trade according to the laws of his country of residence. An individual should not be under 18 years old and should not be considered as a minor in his country of residence. Minors are not allowed to open a trading account at all.
New customers are permitted to get XM $30 bonus only once, it is connected to the one and unique IP address, meaning that there can only be one bonus for one IP address. Customers also cannot open several trading accounts with the same registration details to get more than one bonus.
Transferring the bonus money from one real account to another is not possible. The bonus money can be used for trading on the same account it was initially applied to.
How can you get XM $30 no deposit bonus
Receiving XM free $30 is easy even for the traders who are new to the Forex trading industry. To claim your bonus you need to open a real trading account with XM. Once you go the broker website you should go on the page of promotions where you will see several offerings. Currently, XM is suggesting no deposit and deposit bonuses. You need to choose XM 30 USD no deposit bonus, click "read more", and the button will transfer you to the bonus page. There you can find full information about the bonus and how it can be used. Now let's go step by step on how to get the free $30 from XM.
Step #1 – Opening a real account
The first step is opening a real account with XM. You need to fill the registration form that consists of two parts. You need to provide your personal details such as name and surname as it is written in your identity document, country of residence and preferred language. Your valid email, that you are using and your Phone number. Both of them will be needed for fulfilling the next steps, therefore make sure to provide valid information, otherwise, you will not be able to receive the XM 30 USD free bonus.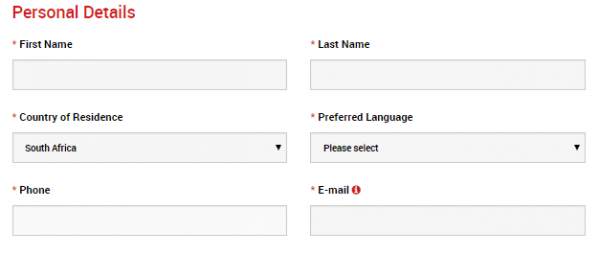 The registration form will ask you to make two important choices. First, you need to select which platform you want to choose. Currently, there are only two trading platforms available with XM – MetaTrader 4 and MetaTrader 5. It is up to you which one you select, but you need to make the choice depending on your trading needs and requirements. If you are not sure about the differences between these two trading platforms do not get confused, there is not a big difference. MT4 is predominantly a Forex trading platform, while with MT5 traders can trade other instruments such as indices, precious metals and more. If you want to know more about MetaTrader features and the differences between these two, check out the trading platforms review for more details.

You need to select the type of account you want to hold with the XM Forex broker. The account type does not affect the XM deposit bonus. XM is offering five types of trading accounts and you can choose the one based on your needs and trading goals/plans. These accounts are Micro, XM standard account, XM zero, XM Ultra low micro and XM ultra-low standard. I will not go in details of the account types here, you can find detailed information about them in XM detailed review.
After finishing the first part of the registration, the next page of the questionnaire will appear. After filling it up, you will be just one step away from getting the XM $30 bonus. On this step, you need to provide the details of your trading account such as the account currency, leverage and account bonus. After it, you need to fill investor information – what is your investment amount in USD, your employment status and so on.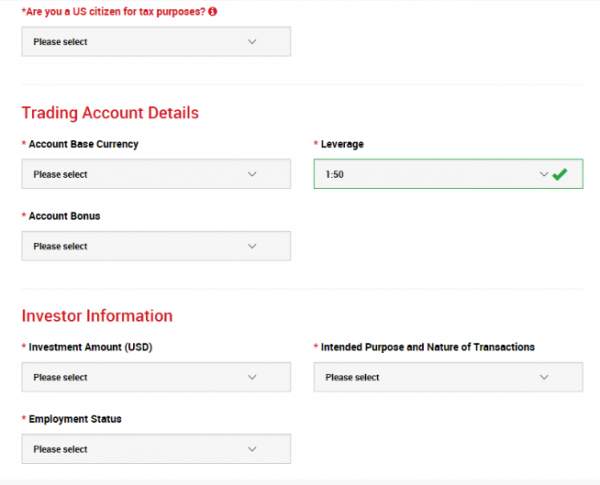 Step #2  log in to the members' area
Once you are done with the registration process you need to log in to the member's area to receive the XM welcoming bonus. You will receive an email from XM on the email address you mentioned while registering. Via email, you will receive your ID for the members' area. You can reach your trading account with this ID and the password you have indicated in the registration form.
Step #3 validate your XM account
The next step is account validation. It is done very simply without much hassle. Once you log in to the members' area you will see the button requesting you to upload your documents for verifications. You need to provide with two documents.
1 – ID- a color copy of a valid passport, driver's license or any other legal document that proves your identity.
2 – POA – (proof of residence) it can be a bank statement or utility bill that dates within the last 6 months.
It may take a few days until XM approves your documents.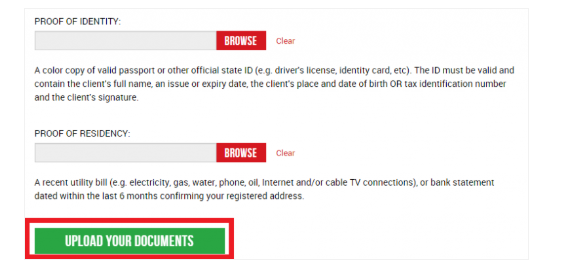 Step #4 claim your XM no deposit bonus
It can be done with just one click in your trading account!
Step #5 Verify
The last step is verifying your XM no deposit bonus and you are good to go! The verification is done by SMS or voice verification. After it is done the broker will transfer the $30 on your trading account. Usually the transaction takes up to 30 minutes, however in some cases, it might take 24 hours, so do not worry if the money will not appear on your account right away.
You can start trading right after you receive the money. I hope that your trades will be successful and soon you will want to withdraw your profits, so let's see how it is done and what are the XM no deposit bonus withdrawal conditions.
XM no deposit withdrawal policy
As I have already mentioned, you cannot withdraw the initial deposit money as it is for trading purposes only. Let's say you have traded for a while, if you want to withdraw the money, the initial amount of XM $30 bonus will be removed proportionally.
To withdraw the money you need to complete at least five round turn trades and the trading account should reach 0,1 standard lots. All of the no deposit bonuses have some kind of trading volume requirements. While some of them can be impossible to reach by beginner traders, XM no deposit bonus trading volume requirement is acceptable and realistic.

Why XM $30 free bonus?
XM free bonus is truly one of the best no deposit bonus offers that is available on the Forex trading market today. The fists thing that speaks well about the bonus is the quality and reputation of the broker itself. As XM is regulated by the most trustworthy regulators in the world there is no possibility of getting yourself in some kind of scam or fraud with the broker. At the same time, it has been operating on the Forex market for ten years now and has well established and developed services. It is very easy to claim the XM no deposit bonus 30 USD, and most importantly the conditions are well designed for even beginner traders. Hence, if you do not have a long trading experience, you can still be profitable with the XM bonus.