Forex.com review – is the broker scam or can it be trusted
There are very few brokers that can be proud of twenty years experience and still be relevant to the Forex industry which is changing and developing daily. Forex.com is one of the highly respected and trusted Forex brokers. Both, the reviews of the company and Forex.com opinions made by the broker's customers state that the company delivers exceptionally good service with its trading platform, overall trading experience and it's support team.
The broker first appeared on the market in 1999, it is operating under the parent company GAIN Capital UK Ltd and is fully authorized & regulated by the FCA. The broker offers more than 300 trading instruments, including currency pairs, indices, shares, stocks, and cryptocurrencies. It also offers a demo account and a choice of three platforms depending on the needs and experience of the trader. The minimum deposit you can start trading with is ZAR700 and the maximum leverage the traders can have is 1:200. The broker does not charge any additional fees and has a very flexible deposit and withdrawal methods. If you want to start trading with a well experienced yet modern broker that has solutions for every problem, make sure to read the detailed Forex.com review below.

Forex.com broker overview
There is a high chance that you too have heard about Forex.com as it has been operating on the Forex trading market since 1999, meaning that the broker has 20 years of trading experience. There is a lot to say about an FX broker which has such a long experience, a huge list of the customers worldwide and keeps being regarded as a trusted Forex broker. The Forex.com Forex brokerage is a subsidiary of GAIN Capital UK Ltd and belongs to the Gain Capital Investment Ltd.
Needless to say, the broker has the full authorization from the FCA under license number 113942. The FX brokerage has it's headquarters in the UK, on the following address: 16 Finsbury Circus, London, EC2M 7EB, United Kingdom.
The strong regulatory framework, financial strength, and security are what the broker can be proud about, and there cannot be any doubt for Forex.com scam as the broker is fully legit and has worldwide recognition.
Forex.com review
Do not expect an old-fashioned website when you are visiting Forex.com. The website has a nice and vibrant design which gives it a modern, yet professional look. The website has several categories for markets, trading, analysis, education and more. With one scroll you can reach the needed pages and get full information about the broker and its services. The broker has displayed all the needed information in a way that it does not take much time to find necessary information.
The broker has Facebook, Twitter and Youtube account where it posts market news and educational content that is always welcome. Speaking of education the broker has several categories for educational content on the website that reflects well on the Forex.com rating. On the website, you can find trading themes, popular Forex guides, and trading courses that have categorized content for a beginner, intermediate and advanced traders. In addition to that, one can find multiple videos on the broker's Youtube account.  As for everything in life – the first impressions matter and Forex.com FX brokerage have given a very good one. Let's see what the broker has to offer to its customers in detail.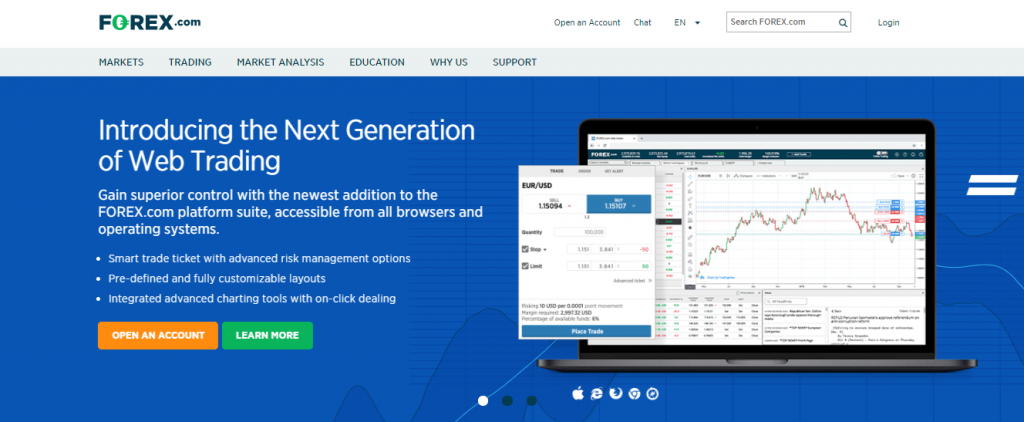 What Forex.com has to offer
The broker offers over 300 trading products with competitive pricing and fast and quality execution. With Forex.com a trader can trade with five classes of trading instruments:
More than 80 currency pairs
Over 15 of the most popular indices across American, European, Asian and Australian markets
Access to over 220 of the most popular company shares from the US and UK including Amazon, Netflix, Twitter, Barclays, Tesla Motors, and more.
Different popular commodities across American, European, Asian, and Australian markets, including Oil, Natural gas, cotton, soybean and many more.
The most popular cryptocurrencies: Bitcoin, Ethereum, Ripple, Litecoin
The list of trading assets that the broker provides is impressive, there are variable spreads with the exception of cryptocurrencies. The trading conditions are different depending on the assets traded. The spread for the most common currency pair EUR/USD is 1.3 pips. The leverages are different for the assets as well, maximum leverage you can have is 1:200


Minimum deposit
Forex.com minimum deposit is $50 or a currency equivalent. The maximum deposit one can make with one transaction is $10.000. Different payment methods can be used for transactions like Visa or Mastercard or Wire Transfer. The deposit will be funded immediately if the bank transfer is used as a payment method, as for the Wire transfer, it usually takes one or two business days.
One of the advantages of the Forex.com deposit policy is that you do not have any restrictions with the cards. Many brokers have this one account – one card policy that can be very uncomfortable for many traders. With Forex.com you can use more than one card, however, there should be an exact match between the name on the account and of the other financial institutions.
Withdrawal
The withdrawal is possible via your trading account. It can be made through Credit/Debit card or Wire transfer. Processing time for the Credit/Debit card from the side of Forex.com is up to 24 hours and for Wire Transfer – up to 48 hours.
Customers must consider that the processing time of Forex.com withdrawal is the time broker needs to process the withdrawal request, receiving money on your account depends on the payment method and the bank you are using. There are no fees/commissions for depositing or withdrawing the money.
Forex.com account types
With Forex.com you can open two kinds of accounts – a real trading account and a demo account.
The accounts are linked to the trading platform. You can open a Forex.com account on its own platform or on MetaTrader4. Demo account is available for 30 days and provides with the possibility of risk-free trading to those who are new in the Forex industry, or who simply want to try out what is trading like with Forex.com.

Signing up with Forex.com
Signing up might look a bit complicated especially for the new traders, therefore, I'd like to give it a little more time to explain why is it so and how you can open an account with the broker. When something seems too easy or too hard with the broker a lot of traders tend to get doubts, you might be one of them and think if Forex.com can be trusted or not. Do not worry, the process of opening an account with the broker is a bit more complicated than with others only for the security reasons.
Once you click the Open An Account button you will be noticed that you need to submit some of the documents alongside with the application such as a National ID card, passport or driver's license. If these documents do not include the residence address you will need to provide additional documentation that can be a utility bill, bank statement or credit card statement.
If your documents are not in English, do not worry or do not think that you need to have them translated, upload them as it is and the Forex.com staff will translate them.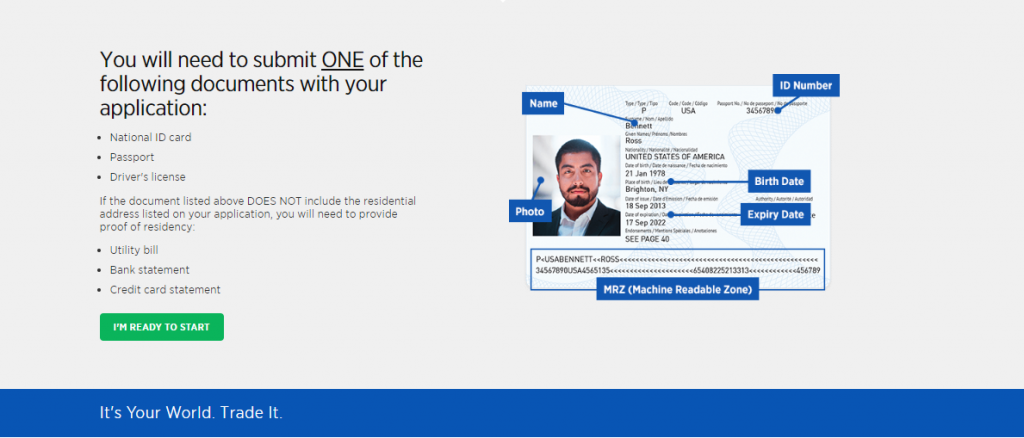 Once you have the needed document, you can start the registration process which takes up to five minutes. You will be requested to fill the registration form that includes personal information such as Name, Surname, country of residence, date of birth, Email address and mobile number. When you fill it up, you can write your username, password and choose the base currency – either USD, EUR or GBP.
The next step of the registration is filling information about you and trading experience, when you go through all the steps you will have created your Forex.com trading account. There you can upload the documents that were requested from the beginning.

Forex.com trading platform
There is a lot to talk about the trading platforms that Forex.com offers to its customers. The broker has designed and integrated the platforms for all kinds of traders – beginners, intermediate and experienced ones. At the same time, there is something for a trader with different tastes. The broker offers:
Forex.com WebTrader
Forex.com Advanced Trading Platform
MetaTrader 4 (desktop, web, mobile)
The WebTreader has integrated tools, market commentary, and analyses. At the same time, it has advanced charting features, more than 50 drawing tools, and more than 70 technical indicators. It is optimized, compatible with all modern web browsers and is highly secure and reliable. An advanced trading platform is specially designed for professional trades that demand sophisticated trading platforms, features, and advanced analytic tools. The platform has powerful charting tools, 80+ technical indicators and trading strategies with 100s of templates traders can choose from.
As you can see the broker is determined to fulfill the demands of every kind of trader and suggests various trading platforms that meet their needs. In my humble opinion, it elevates the Forex.com rating a lot.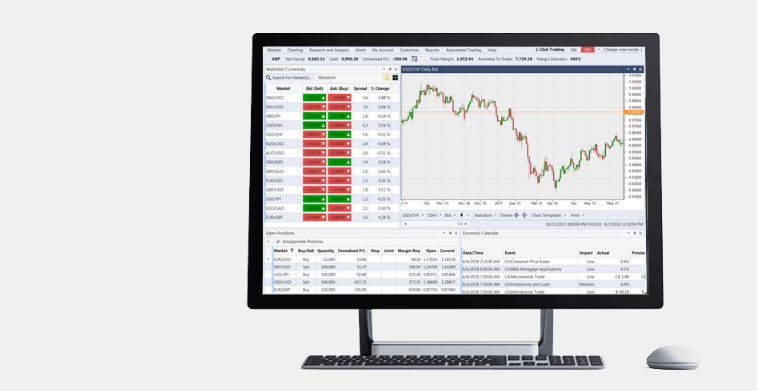 Forex.com customer support
There are several ways to get help from the Forex.com Forex brokerage customer support team. One you go to the customer support page the broker suggests the possible topics you might have questions about, as well as frequently asked questions. If you did not find your answer there you can contact the broker via live chat. Live chat requires you to write your name/Email address and indicate what kind of account you have – real account/demo account or the new account (for the new users). I do not like it much when a broker requires you to fill personal information for a live chat, but it is acceptable from the large brokerages as they have a lot of customers and they need to somehow categorize the questions to solve the issues of the customers fast. While making the Forex.com review I contacted the support team and was delighted to have an answer in a very short time.
There are other ways you can get an answer from the broker, for example, you can submit the question on the website, contact the support team via Email or directly call them.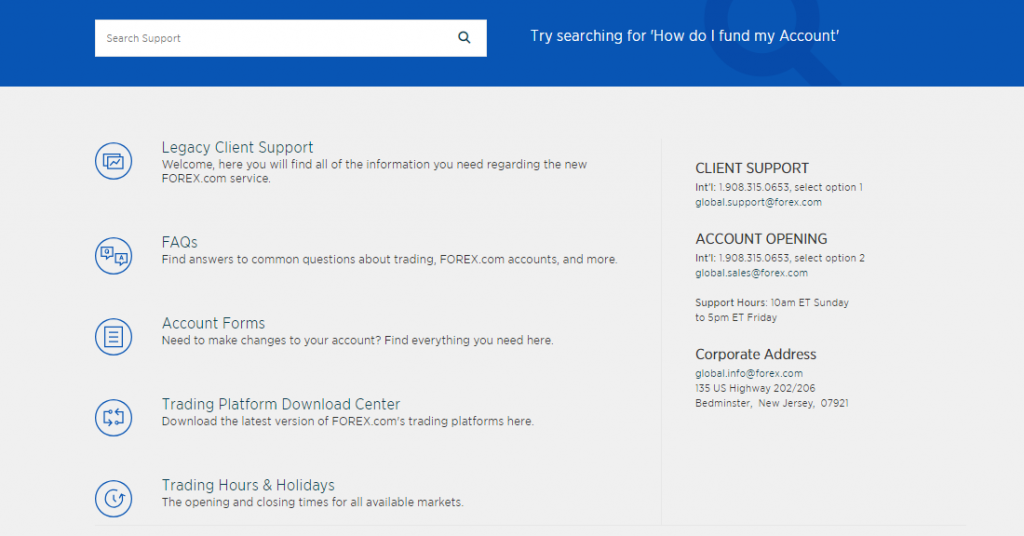 Is Forex.com legit?
My Forex.com opinion is that the broker is fully legit and even more – is one of the best brokerages you can start trading with especially if you are a professional trader or have long term goals for your trading career. With its 20 years of experience, the broker has shown that security and customer satisfaction are the base of their business. The broker offers various trading assets and good trading conditions with no hidden fees. It has a well-thought and well-designed platforms with a highly professional customer support team. There is simply no evidence of a Forex.com scam and you can confidently start trading with them.
[RICH_REVIEWS_SNIPPET category="page"]
[RICH_REVIEWS_SHOW category="page"]
[RICH_REVIEWS_FORM]