Review of AvaTrade – Everything this broker has to offer
There are many Forex brokers online, each of them better than the other. However, because there are so many options, many people are having a hard time deciding which one to trust. Also, while there are many well-developed FX brokers, there also are many scammers.
One of the best-known Forex brokers online that has a reputation as a safe and secure Forex broker is AvaTrade. Created back in 2006, as much as 15 years ago, AvaTrade has won numerous awards for offering traders safe and secure trading conditions. The broker is regulated in six different jurisdictions and offers services to citizens of numerous countries.
Over the years, the broker has managed to attract as many as 300,000 active users. The broker offers traders access to over 1250 trading assets through some of the most popular trading platforms, such as MetaTrader 4 and MetaTrader 5. Follow our review of AvaTrade and see what exactly it has to offer to traders.

Reviewing AvaTrade regulatory framework
As we have already noted, AvaTrade is a safe and secure broker. But, what is it that makes it a safe broker? There are certain things that guarantee the safety and security of Forex traders using AvaTrade. The broker is regulated in six different jurisdictions with leading regulatory bodies, making the services of the broker safe and secure.
The broker is regulated by the following regulatory agencies:
CySEC, Cyprus Securities and Exchange Commission
ASIC, Australian Securities and Investments Commission
Central Bank of Ireland
Financial Services Commission of British Virgin Islands
FSCA, South African Financial Sector Conduct Authority
Japan's Financial Futures Association and Financial Services Agency
Securities Authority of Israel
The Abu Dhabi Global Markets, ADGM & Financial Regulatory Services Authority, FRSA
Because the broker owns so many licenses, it is able to offer services in numerous jurisdictions. This is a great thing because traders of all backgrounds are able to trade with this broker. Also, by being licensed and regulated by so many agencies, you can be sure that the broker is strictly following the local Forex trading restrictions and laws in your jurisdiction.
How is your safety guaranteed?
There are several things that guarantee the safety and security of your funds. First of all, the regulatory framework that the broker follows requires it to adopt different types of policies. One of such policies that the broker has adopted is negative balance protection.
Forex trading is a very volatile market, which is also known for offering traders higher leverage. Leverage comes with many risks and if your positions prove not to be successful, you will be losing your hard-earned money. Also, many traders tend to lose more money than they have on their live accounts. What negative balance protection does is that it keeps you safe from situations like this.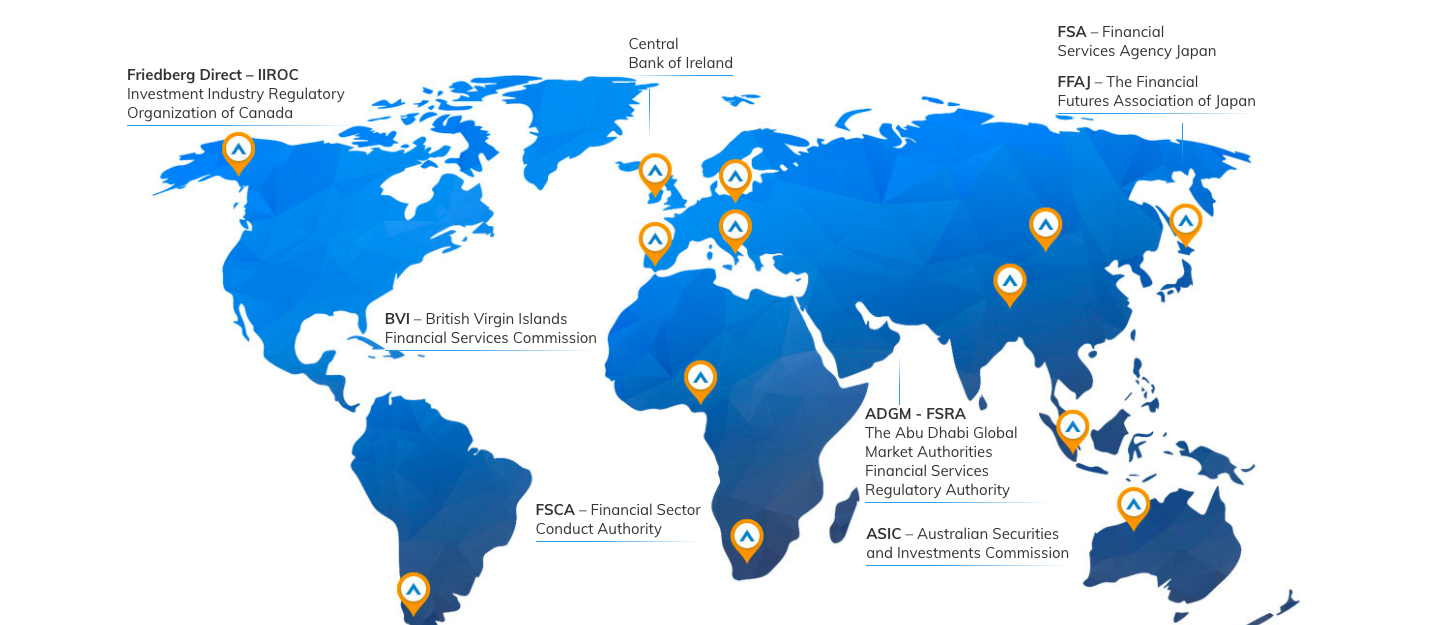 Thanks to the negative balance protection, whenever your account balance nears zero, all of your positions will be closed automatically.
The broker also is required to keep the funds of its clients on segregated bank accounts. It does so by partnering with leading banks in Europe and around the world. Since the broker keeps the funds of its clients on segregated bank accounts, its clients can feel much safer. The main reason for this is that no matter what goes wrong, you will always be able to access your hard-earned money.
Ways to start trading at AvaTrade
To be able to start trading at AvaTrade, there are several steps that you will have to take. However, as our review of AvaTrade shows, getting started at the broker is not a big of a challenge and you should be able to start trading with this broker in just a few minutes.
To be able to start trading at AvaTrade, there are several steps that you will have to take. First of all, you will have to create a live trading account, then, continue by depositing funds on your live trading account, after which, you can open a trading platform, decide which assets you want to trade, and start opening and closing positions.
The broker offers traders one regular account. This account can be very useful for both beginner and experienced traders. The AvaTrade live account is basically a universal account and by creating this account, the broker makes sure that every single client of the broker is enjoying the same services.
The minimum amount of money that you have to pay to create the live trading account is $100. The spreads are very low, and you are not charged any commissions while making deposits. In addition to this, Forex traders have the ability to trade Forex at this broker with leverage of as much as 1:400. However, you should also remember that this leverage won't be available for you if you are trading Forex in Europe or Australia because of the local Forex trading laws in these jurisdictions.
Creating a live trading account is not hard at all and only takes you a few minutes. However, keep in mind that the broker strictly follows the KYC policy, which means that it requires Forex traders to provide different types of documentation to prove their identity.

Demo account of AvaTrade reviewed
Clients of AvaTrade have the ability to create a demo trading account which is one of the best ways to start trading. With the demo trading account, you are able to trade the market without making any payments. Although you won't be able to make profits while trading with this account, you will be able to learn more about the Forex trading market and grow as a trader.
A demo account is also very helpful for those who want to try out different types of strategies and see which one works better for them. While using this account, the broker will provide you with a certain amount of virtual cash which you can use to trade Forex and test out your trading skills. Once you gain enough experience in trading, you can move on to using a regular Forex trading account.
Swap-free account of AvaTrade
Forex traders who follow the beliefs of the Quran are also offered access to the swap-free account. This account can be used due to religious beliefs only and is called an Islamic account. Unlike the holders of other accounts, Islamic account traders do not have to pay any interest rates, which is restricted by the Sharia law of the Quran.
Go professional with AvaTrade
While reviewing AvaTrade account types, we found that the broker offers access to the professional account, however, there are some requirements that a broker has to come to be able to create this account. First of all, as a professional trader, you are required to prove that you have substantial experience in Forex trading. The broker also requires you to have a 300,000 euro-worth portfolio.
Over 1250 available trading assets
Once you have found the account that fits your needs the best, you can go on by choosing which trading assets you want to invest in. As we have said earlier, the broker offers traders access to numerous trading assets. This means that no matter what you want to invest in, this broker has something that you might like.
Among the available trading instruments at the Forex broker you can find:
Forex currency pairs
Shares of leading companies
Best-known indices
Hard & Soft commodities
Precious metals
Bonds
Cryptocurrencies
Although the Forex broker largely focuses on Forex trading, as you can see yourself, it also offers numerous other assets for trading. This is possible thanks to CFD trading, which is among the most popular assets globally. CFDs offer traders the ability to invest in different markets without having to directly own any underlying assets.
Because there are so many assets available at the Forex broker, you can easily find something that meets your needs. Once you manage to find the trading platform, you can continue by making your first deposits on your account.
Payment solutions available at AvaTrade
AvaTrade offers traders a number of payment solutions. Generally, depending on your location, you will be offered several different payment methods. Clients of AvaTrade can make deposits using different methods, this includes bank transfers as well as credit/debit card payments. You will also be offered the ability to make payments using mobile payment solutions.
As we were able to find out while reviewing the Forex broker, there are no commissions charged by the broker. This is a huge advantage and makes trading with AvaTrade a great experience. Keep in mind that to be able to start trading at AvaTrade, you will have to first make a deposit of $100.
After you have created a live trading account, deposited funds, and chose what you want to trade, it is time for you to open a trading platform and start trading Forex.
Reviewing AvaTrade trading platforms
While trading Forex, you will be spending most of your time on a trading platform. Not only will you need it to open and close positions, but to also do technical analysis and make better predictions about the possible price movements in the market. There are many trading platforms available at AvaTrade and depending on your wants and needs, you can use any of them.
Among the available trading platforms, you can find two that are the most popular around the world. They are MetaTrader 4 and MetaTrader 5. MT4 is the most popular trading platform around the world. Created in 2005, it has forever changed the way people trade Forex.
Using MT4 is very easy and it is super user-friendly. The same is true for MT5. Both of these trading platforms are very similar to one another and if you know how to use one, you won't have any problems using the other. In general, Forex traders prefer to use MT4, while stock traders mostly prefer to go with MT5.
But this is not all, the broker also offers traders access to other trading platforms.
Mobile trading at AvaTrade
In recent years, more and more people started using mobile trading platforms. There are several reasons for it. One of the biggest reasons is that there are more people than ever before who want to trade Forex while also traveling. For those people, it is impossible to imagine trading Forex and sitting in front of their screens the whole time.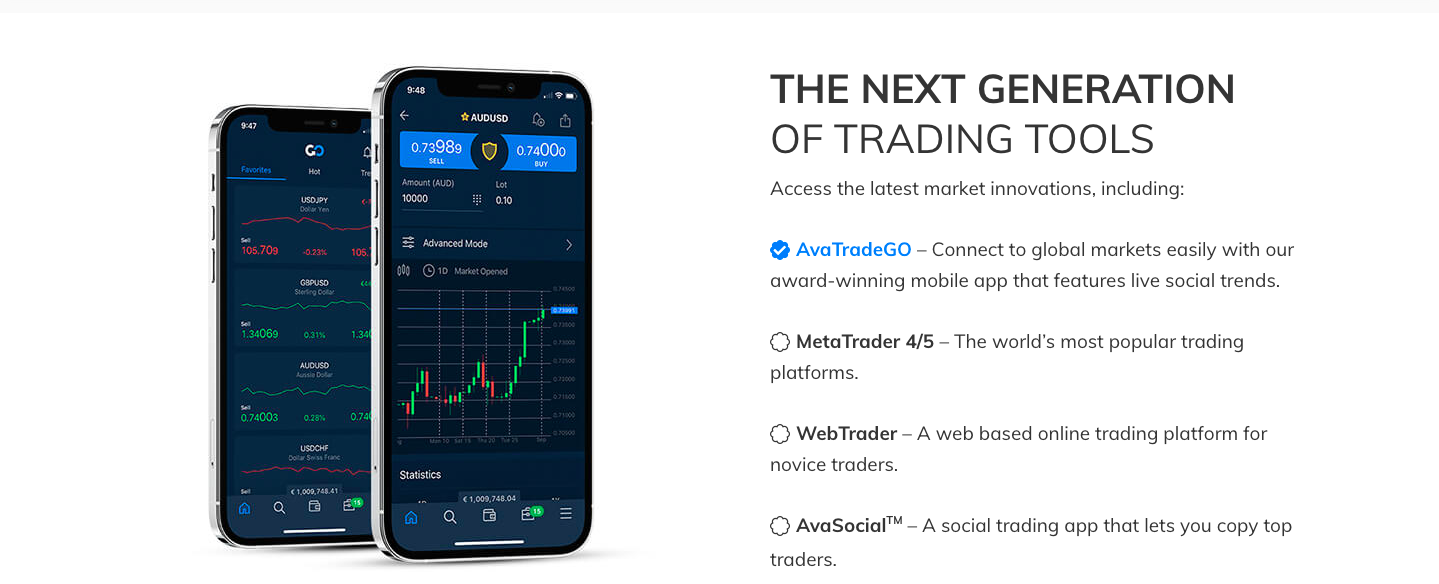 The mobile trading platform of AvaTrade is very well-established and works without any problems. There actually are two applications that the broker has created for its mobile traders. While one is created for trading, the other one, called AvaSocial, was created to connect the clients of the broker to each other.
The AvaSocial is a perfect application for those who are just getting started in the market and are trying to find ways to learn more about Forex trading and grow as investors. Thanks to the AvaSocial, you can get to know other traders and see how they are trading, and use their tips to become a better trader.
Learn more while trading Forex with AvaTrade
Because of the regulatory framework of the Forex broker, it is required to offer traders educational material. There actually is a lot of things that you can learn from the special educational material created by the broker. The broker offers traders numerous e-books, webinars, as well as guides which you can use to learn more about the market.
There also are several other methods you can use to learn more about Forex trading at AvaTrade. As we have already said, this broker offers you access to the AvaSocial, which is a special application created to connect traders with each other. It can be used for educational purposes as well.
So, can you trust the AvaTrade FX broker?
Our detailed review of AvaTrade Forex broker shows that it can be trusted without any worries. The Forex broker is very well-known around the world and offers traders access to over 1250 trading assets. Among other things that make it a perfect Forex broker to trade with is the regulatory framework that it follows.
Because of all the reasons that we have discussed in this review, we recommend this Forex broker to our readers.