CM Trading review – How to start trading with this broker
As the South African Forex trading industry is just developing there are not many brokers that are based in SA with a trustworthy name. Because of this, many investors are having a hard time finding a well-developed Forex broker, that can offer them safe and secure Forex trading services. One of the best-known brokers in the country is CM trading, which, over the years, has developed very fast.
CM Trading offers various trading instruments such as currency pairs, CFDs, metals, indices, and commodities. The spreads with the broker are low, there are no commissions or hidden fees. The broker offers several types of trading accounts, the minimum deposit for the trading account is $250 and the maximum leverage traders can get is 1:200.
CM Trading offers various payment methods including Wire/bank transfer, Credit/Debit card, CashU, Neteller, and Fasapay. As for withdrawal, it takes up to 24 hours for the broker to process requests, however, those who hold premium accounts can get the same day withdrawal.
Today we are going to review CM Trading, we will go into details of all the services and conditions the broker offers. So, if you want to learn more about its services, offerings, and other details that might be important for investors, follow our review and start trading today!

CM Trading broker overview
CM trading was established exactly 8 years ago in South Africa in 2012. Today, it represents the largest brokerage in the country, at the same time it accepts international customers. CM Trading is the brand name of two companies Global Capital Markets trading and Blackstone Marketing SA(PTY)LTD.
The broker is registered with the South African financial authority FSCA. It is always good when the broker is registered with the local authority as it brings more safety for the customers. This regulatory agency is the one that takes care of the whole financial market in South Africa. Over the years, the regulatory framework of it has changed and developed a lot, and today, it is known to be a very trustworthy and safe regulatory agency.
Because of the safety and security that this Forex broker has been working on for many years now, it was voted as the best performing broker in South Africa in 2017. After this reward the broker has worked even harder to maintain its status and today, it is regarded to be one of the most trustworthy companies in the country.
Why are regulations important?
Regulations are something that can be used by Forex traders to find out which companies they can trust. There are many regulatory agencies around the world, working to make this market safer for everyone. CM Trading is a regulated Forex broker, which is one of the main reasons why it's services are safe.
By following the regulatory guidelines very strictly, this company has created safe and secure services for everyone who uses it. Over the years, there have not been any complaints about this company, which is not something that we see in this market today. This Forex broker managed to have such a great reputation by constantly working on its development, and not stopping for anything less than perfect.
The website of CM Trading
The website of the broker is very user-friendly, it looks very professional and the information provided by the broker provided at the website is very helpful. Also, the website has special pages dedicated to every type of information that might be useful for investors. You can access everything in just a few clicks. The broker also has a special page of Q&A, where you can find anything that you are looking for.
A great thing also is the fact that the website is available in many different languages. This can be very helpful for those who are trading from different countries. The broker has noted many times that it is working very hard to get international exposure, for which, this is a great thing. Also, the languages that CM trading offers are the most spoken languages in the world such as English, Arabic, Spanish, and Chinese.
Another advantage of the broker is that it is present on social media, it has Facebook, Twitter, and Youtube accounts where the broker is posting actively and has a wide audience. It once again proves that CM trading has a big base of customers that enjoy trading and communicating with the broker.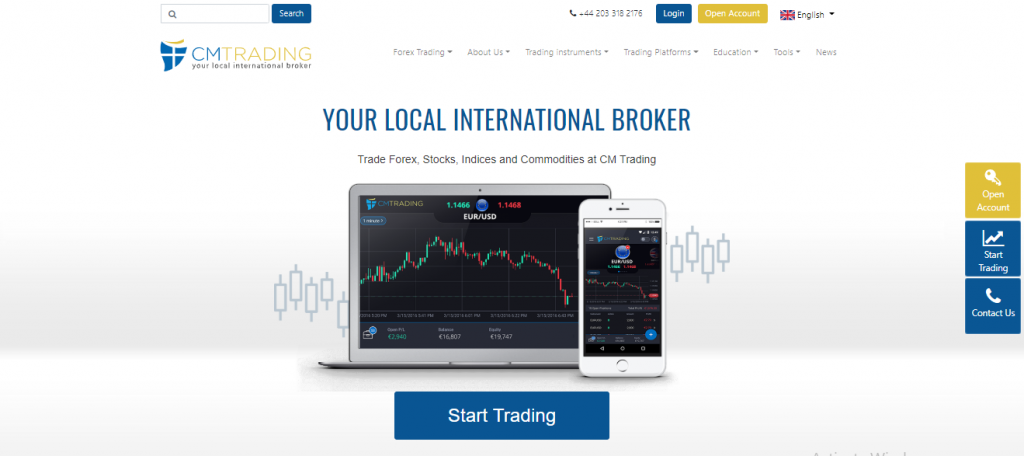 Education at CM Trading
While making this CMtrading.com review we were very glad to see that the broker is paying much attention to educating its traders in different ways. On the homepage of the website, you can find the category "Education" where the broker has placed educational content in different categories. There is a huge library of training videos categorized regarding the topics, for example, you can see a video series about CFDs and stocks, trading tools, beginners course, and many more.
The broker offers several Ebooks about Forex trading, currency trading, technical analysis, and more. CM Trading Forex broker also has created special webinars, one can also watch previous webinars on the website. Last but not least, the broker offers a video chart analysis.
While there are not many brokers that are offering educational content to its customers or potential customers, among those who have this feature, some of them only display several articles or videos and offer a very poor selection of it. These kinds of brokers only have educational content just to have it on the website. Some brokers who offer really good educational content make it accessible only for those who have certain accounts with them. Hence we have to praise CM Trading for providing quality education free for anyone interested and add some more points to the CM trading rating.
A great thing about educational material is that it can be used both by newcomers in the market and those who have been trading Forex for a long time now. Forex is one of those fields that is changing every moment and by creating so many opportunities for investors, this Forex broker is offering amazing opportunities to its investors.  No matter what you want to learn about Forex trading, you can very easily find it at this FX broker.
What does CM trading have to offer?
CM Trading offers five types of trading instruments to its customers, the instruments include
Currency pairs
CFDs with over 200+ products such as currencies, metals commodities, and indices.
Precious and industrial metals such as platinum, silver, copper, and many more
Commodities such as gold, oil, coffee, natural gas, and more
Indices of European, the US, and Asian markets.
Because there are so many trading instruments available, you will not have time to get bored. Trading instruments are very important for investors because these are the things that you will be trading. One of the most popular markets around the world is the Forex trading market, which is used by millions of people every day.
According to official data from 2019, the average daily turnover of Forex trading was as much as $5.1 trillion. This is a huge number and it means that a lot of people are interested in this market. Because of this, CM Trading review proves that this Forex broker is offering a lot of opportunities in this regard. There are more than 45 currency pairs available for investors right now, which is a great offering.
Spreads
The broker offers reasonable and low spreads that can be attractive especially for the new traders or those who do not have a huge trading capital. It is always a must, to know how the broker is making its money, with spreads or commissions. We are glad to say that CM Trading FX brokerage is making money though spread and not commissions, or hidden fees that are relatively common with not so trustworthy brokers.
Leverage
Leverage is something that can make or break you. While many traders are seeking high leverage to gain more profits from trading, they often miss the point that high leverage means a higher loss as well. CM Trading offers quite a high leverage 1:200, again, while it can be good for professional traders, inexperienced ones should be more careful with it or avoid it completely.
A great thing about this Forex broker is that it offers Negative Balance Protection, which means that even if you trade with very high leverage, you will not end up losing more than you have deposited on your account. This shows that this broker cares about its users and clients a lot and is trying its best to make sure that they are staying safe.
Also, because of the regulatory framework that it follows, it keeps the funds of the investors on segregated bank accounts. With the help of this, you will be able to stay safe no matter what goes wrong. Even if the broker files for bankruptcy, you will still have access to your funds and you will be able to withdraw it without any problems.
Withdrawal
According to the guidelines displayed on the website of the broker, CM trading withdrawal is a very easy thing to do. One needs to fill the withdrawal request on their trading account. Once it is done it takes about 24 hours for the broker's finance department to contact you by email and enable withdrawal. Usually, it takes 1-2 business days for the brokers to process withdrawal requests, in some cases, it can take even a whole week.
Although it is not an instant procedure in the case of CM Trading, it does not take a very long time either. This is a great advantage, especially compared to other brokers, where it could have taken investors several days for the payment to be done.
CM trading account types
CM offers 4 types of trading accounts to its customers. The variety of trading accounts also raises the CM trading rating as it means that the broker has specially designed accounts for different kinds of traders. All the accounts come with different advantages and minimum deposits, however, all four of them have the same 1:200 leverage and access to demo accounts.
Bronze Account – Mini account is for the beginner traders and for ones who have a relatively low budget for trading. The minimum deposit is from$250 to $999, the account comes with a normal spread that the broker has, daily and weekly market review, and CM trading Ebook that is available only for broker's customers.
Silver Account – As it is said on the CM trading account this is the most popular account among traders. The minimum deposit is from $1,000 to $9,999. The traders can have one risk-free trade and access to special webinars for Forex introduction. This account is regarded to be the most popular one on the website of the broker, and it is used very actively by both, new and old Forex traders in the market.
Gold Account – The minimum deposit for this account is from $10,000 to $99,999, it comes with tighter spreads, two risk-free trades, and Webinars for Forex introductions and technical and fundamental analysis. This account is a perfect choice for those who want to invest more in the world of Forex.
Premium account – The premium account is available for those who deposit $100,000 and more. It comes with the competitive spread, option for same-day withdrawals, three risk-free trades, and two trading strategies. In addition, the traders who hold the premium account can have access to an additional webinar. If you want to access more benefits while trading Forex, this account will be a perfect fit for you.
This is a great chance for everyone.  No matter what you are looking in the Forex trading, you can very easily find it at this Forex broker. These account types are a perfect fit for every investor. This is a great indication that this company actually cares about its investors a lot.
CM Trading platform
Apart from different CM Trading accounts, the broker has a variety of trading platforms that one can choose depending on his abilities and needs. The broker offers CM Trading Copykat, MetaTrader 4, and WebTrader. It is very good that apart from its own platform the broker offers MT4 as it is one of the commonly used and recognized trading platforms.
WebTrader Sirix, on the other hand, is also very common since it is easy to use and does not need any additional software. As for the CM trading Copykat, it is designed to help the beginner traders to get to know how the professionals are trading and to learn from them.
The platform gives new traders the possibility to watch and copy the complex strategies used by successful traders. The fact that the broker is offering different platforms for the traders with different levels underlines the broker's attitude towards the customers and once again removes the possibility of CM trading fraud.

CM trading support
It is crucial to know that whenever you need some help and support form the broker you can get it quickly. We were very glad to find that it's relatively easy to contact CM Trading customer support and get help from them. The support team is available in several ways.
You can use the live chat, which offers several options: contact with sales, trading specialist, or support team in English, there is an option to choose other languages as well. We tried the customer support team on our own and were very glad to see that they replied in no time.
The response time can be from several minutes up to half an hour, which is not very bad and understandable as they might have many people requesting a chat. Other ways are to write an email – which is understandably a bit slower and takes up to one business day to get a response, or you can directly call them. If you still have the question if CM trading is legit or not, you can be assured that it is indeed legit, otherwise, it would be very hard to reach the broker.
Are there any bonuses available for investors?
Our review of CM Trading shows that this Forex broker offers some bonuses and promotions to its investors, however, the offering of the broker is changing very frequently. To make sure that you are always up-to-date with the information, it is a great thing to check out the website of the broker frequently. There, the updates regarding the bonuses and promotions are provided for investors.
Is CM trading legit?
While working on this Forex broker review of CM Trading, we found that this company is working very hard to create safe and secure services to its customers. Over the years, this company has proved that it can offer safety that is so important in this market. The services that it offers are very good, and all of these lead us to believe that it is a legit Forex broker.
Also, the great thing is that this company works very hard to create services that can be enjoyed by any type of Forex broker. No matter you are a beginner or a well-experienced professional trader, you can very easily find something that works perfectly for you and fits all of your needs. So, we encourage every single reader to start trading with this well-developed Forex broker.