EagleFX Review: Essential Details
EagleFX is a Dominican Republic-based unregulated brokerage firm that specializes in currency pair trading. It was founded in 2019. Although very young, the company has attained quite a success over the last year. They have become partners with major investment banks and liquidity execution venues, which has given them huge credibility within the industry.
In our EagleFX review, we will display predominant information about the company. We will discuss security, fees, and accessibility. Let's determine how trustworthy they are, by examining the details of their offerings.
Platforms
This broker uses MetaTrader 4 as its platform for trading transactions. This means you can do your trading anywhere because MT4 is available both on android and IOS operating systems. The company uses STP, which means that the trade execution is very fast. Frankly, each time you trade, the STP system compares the rates offered by the firm's liquidity providers and locks the best option. The greatest advantage about this is that it's done in seconds. No buffering.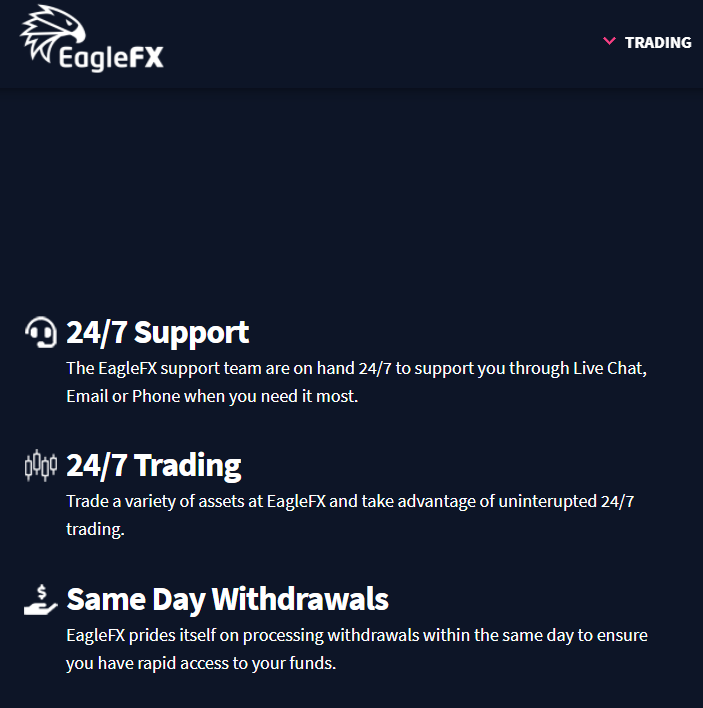 Features
EagleFX forex broker offers around-the-clock support via live chat and consecutive 24/7 trading sessions. Connectivity is not an underlining issue because the firm provides multiple ways to do it. One can email, call or use the live chat feature to talk to the customer service providers any day of the week.
As for promotions, as of now, there are not any offerings on this topic. However, they do have an affiliate program. The way it works is simple. You promote the company in any way you please, You will be using a special link and get a commission on every customer that starts trading real money.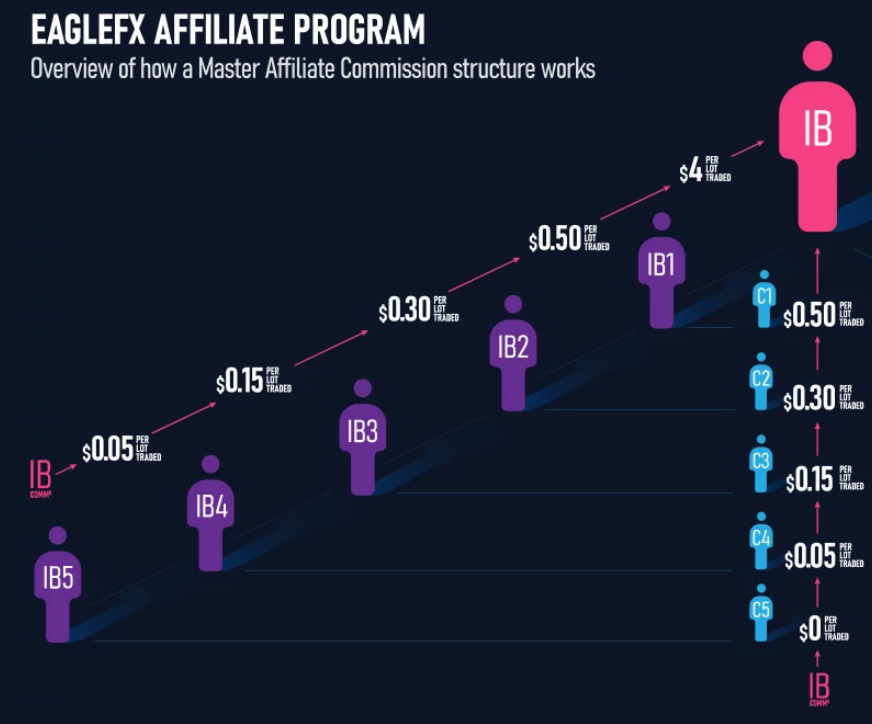 Account Types
Let's take about EagleFX accounts. Traders doing business with this firm have a choice between making a demo or a standard live account.
The demo account is a great way to test out your strategies without any risk as it uses virtual currencies. A Standard EagleFX account requires a minimum deposit of 10 USD. The minimum lot size is 0.01 and 1,000 lots are the maximum exchange size.
Fees and Features
There are no deposit or withdrawal fees. This is the case for Bitcoin as well, on behalf of EagleFX. You will just need to complete the payment of the networking fee for mining blockchain. It's noteworthy that The minimum deposit is 10 USD if you want to use Bitcoin. While if you want to use Credit/Debit or Wire transfer, the minimum is 50 USD.
EagleFX brokerage doesn't charge any inactivity fee as well. The only two times when you are fined in the process of trading is when you have to pay commission, which is charged six USD per lot. One will be fined a swap fee when one holds an open trade overnight. The amount of the subsidy is dependent on the form of the asset itself.
EagleFX has a live spreads page where you can monitor them. They have a changing spread system.
Overview
The accounts themselves are very secure. They use a two-way authentication system. We could not end our conversation without briefly talking about the EagleFX reviews that can be found on the web. As we know the company is newly established, so it's no surprise that they don't have a huge media presence, although their content speaks for itself. This is the kind of firm that is open to change and progress to obtain longevity.